"My mother is a strong woman," says 18-year-old Sandra, Happy's eldest child. "From childhood, since our father died, she has been our backbone. She has sacrificed everything just to provide for us."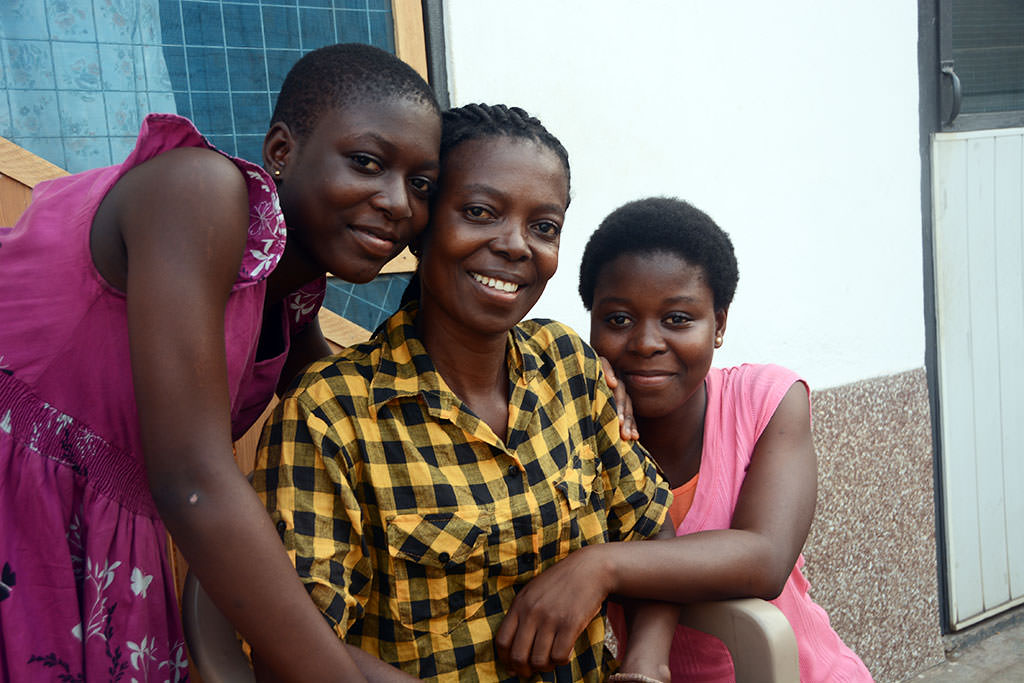 Happy with daughters Sandra and Edwina.
Being a mother can be one of the toughest and most rewarding roles in life. Especially when faced with the overwhelming obstacles which poverty throws at you such as lack of income, food and sometimes, even a lack of hope. Happy lives in Ghana with her two daughters, Sandra and Edwina. The death of her husband 13 years ago left Happy alone and unemployed with two young girls to raise. Happy had a choice and in that moment, she decided to do everything she could to earn money to provide for her family. And she did.
Happy started selling soya bean kebabs and learnt how to make batik cloths so she could sell them. When that wasn't enough, Happy travelled to Togo to buy cheap clothes which she then resold back in Ghana. But this still wasn't enough to provide for the growing financial needs of her family. 
10 years ago, Happy's local church partnered with Compassion and opened a new project.  Both of her daughters were registered and were able to attend school and receive medical check-ups as a result of sponsorship. God's timing was perfect as just a few months later, Happy and her family were evicted without notice from their home. With no money to pay for a new place and no one to turn to, Happy was desperate. The staff at the project heard what had happened and helped them to find a new place instead of living on the streets.
"I was surprised at what the project did for us, going as far as helping us to pay for an accommodation for us," she said. "I keep asking myself what would have happened to us if these children were not sponsored."
So what does Happy hope for her daughters? "I pray and hope to see my daughters through to the highest level of education. It is not an easy task, but I can say that they are on course because they are being offered support from the church and Compassion," Happy says. "I want Sandra and Edwina to hold strong unto God, because I know that when you are in God and God is in you, everything is possible."
Today, Sandra is in her first year of university and Edwina is still in secondary school. Thanks to the support of their sponsors and Happy's determination to provide for her daughters, the future is bright for these young ladies.
We celebrate mothers and the strength is takes to be one. There are so many inspiring stories from around the world of mothers fighting to provide for their families and we honour their sacrifice and dedication.  
WORDS
Roz Walsh
PHOTOS
Vera Mensah-Bediako
---
COMMENTS
No Comments
---
---
You must be logged in to post a comment.