In 2014, in a poor community called Playa Hermosa, in Tolú, Colombia, the Christian Church Prince of Peace started construction on new facilities for their church and Compassion project. Construction took around 11 months, and during this time it was very common to see a 3-year-old boy walking naked around the building site.
The child's name was Victor. Now 5 years old, Victor lives near the project with his father, Luis, and six other relatives, all in one room. Victor is a happy child who is loved by his neighbours, likes to play and asks his father to buy him a football every single day.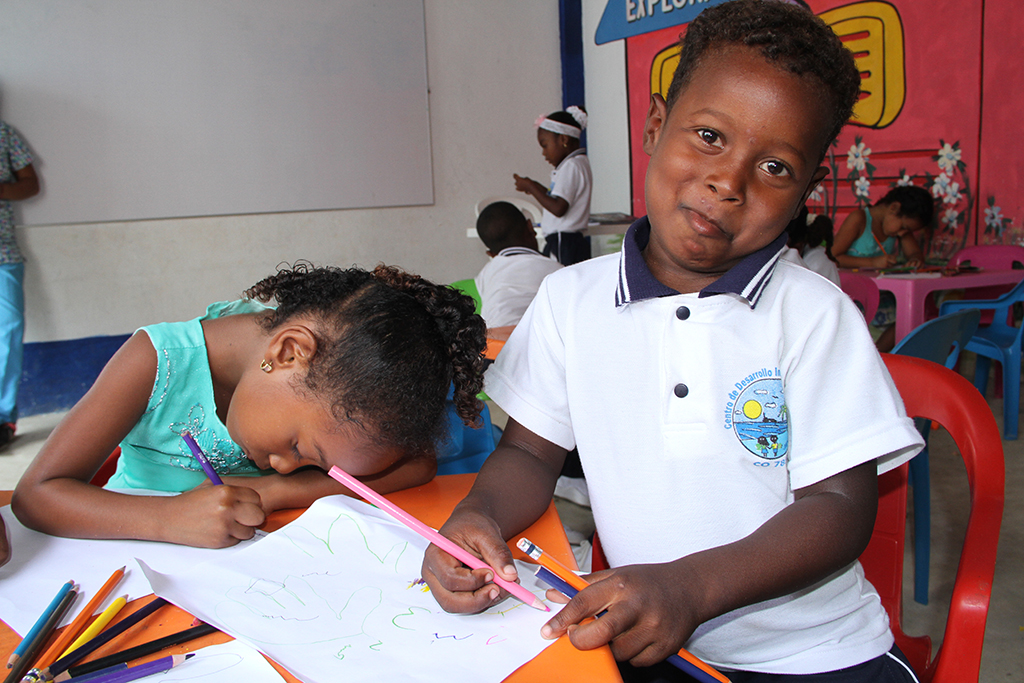 Victor enjoying craft time at the project.
Victor arrived in Playa Hermosa with his parents when he was two. A year later, Victor's mother left him. With his father working long hours, Victor was left to walk around the building site naked and abandoned.
The pastor of the church, Adalgisa, felt compassion for this lonely little boy. When the project started she wanted to register him, but he was too young. Because of his desperate situation, she invited Victor to attend with the other children, receiving food and participating in classes, whilst he waited to be registered.
In the seven months since, Alaym the project director, has kept a close eye on Victor. "He is an outgoing child who is loving, intelligent and respectful," Alaym describes. "But sometimes he feels sad when other children talk about their mothers."
Victor has classes at the project twice a week, but he can be found there almost every day, not only in the project but also the church. Seeing the change in his son, Luis has become interested in church.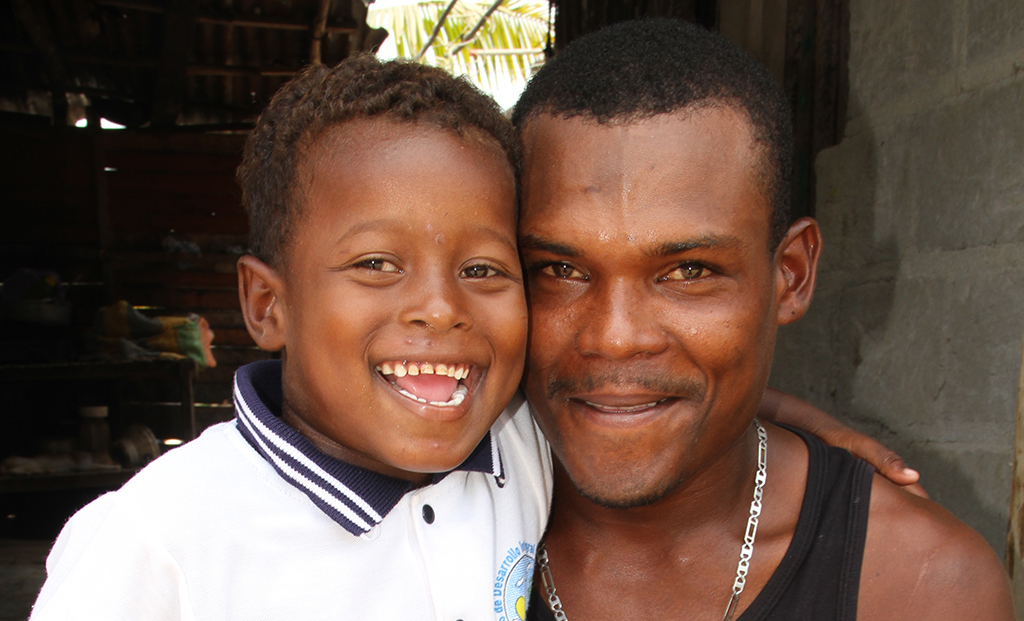 Victor with his father, Luis.
It is difficult for Luis to take care of his son because his job as a motorbike driver requires him to be away for long hours, for little money and no guarantee of work. Before Victor joined the project, Luis felt the pressure of not being able to buy medicines when his son became sick. Victor suffered from skin rashes, his stomach was irritated and he couldn't sleep because of the pain. 
Now Victor receives regular health checks and he has been given de-worming medicine and treatment for his skin and stomach. 
"Victor was the one who discovered the church and the project, and I feel grateful for that, because there he receives things that I am not able to give him", explains Luis. "At the project Victor learns good things; he makes handicrafts and brings these to me. He has advanced in his development with the project's help. Victor started to speak at age 3, but since being at the project he has started speaking very well and is more active and intelligent."
Pastor Adalgisa says, "We try to go beyond, bringing children love and being advocates for them. Like Victor, there are many children who need care and love; here, at the project, they find that and they find hope."
Pastor Adalgisa and the project staff are committed to helping Victor, teaching him values, showing him God's love, and giving him the hope he needs to dream of a better life.
"It is important that Victor knows he is not alone, that we are his advocates, and that we are willing to help him. With God's help, he will accomplish all his dreams. I want to help Victor be a good man", project director Alaym adds.
Learn more about how sponsorship changes lives
WORDS
Lina Marcela Alarcon
PHOTOS
Lina Marcela Alarcon
---
COMMENTS
No Comments
---
---
You must be logged in to post a comment.