Have you ever felt different? Or been ridiculed for not being the same as everyone else? Mariela knows the cost of being different.
Mariela lives in Alta Verapaz in Guatemala and was born with a disfigured right ear. In rural Guatemala, malformation is seen as a punishment from God and Mariela has endured taunts her whole life. "I am embarrassed of my ears because one of them is big and the other small," Mariela says, crying. "Every time I go to school, I feel very sad because the kids stare at me or call me mean things like freak."
Physical differences can set people apart, especially in places where there is minimal education and physical deformities are feared. Magdalena, Mariela's mother, sells gruel at the local market while Mariela's father gets the occasional work as a bus helper. They barely earn enough to feed their family of eight and have little time to spend with their daughter. Growing up, Mariela learnt to deal with loneliness. "The only things I used to do were work on my homework, wash the dishes and play jump rope by myself," she says.
When Mariela started school, her father heard about a place offering free food and help with education to children in their community. Even though it was at a church and no one in their family was Christian, Mariela's parents were keen to get their daughter a hot meal on a regular basis. Mariela barely remembers her enrolment into the project, "The one thing that I do remember is that they gave me food, not once but twice on the same day. I ate lunch and a snack!"
By God's grace, Mariela quickly found a sponsor. "I was very happy to go to the project, but I got even happier when they told me I had a sponsor," Mariela says excitedly. To her surprise, she found out her sponsor was both deaf and mute. "At first I got very sad because I thought that he also had to go through all the pains I face every day, but then I thought, now he is even more part of my family!"
At the project, Mariela discovered her love for God's word. Her sponsor wrote letters with encouraging Bible verses.  Whenever she heard a Bible story at her project, she memorised it and shared it with her family. She was given a Bible and learnt how to read so she could read it to her mother, Magdalena.
Mariela started going to church with her neighbours. "I used to tell Mariela that she could get hurt on her way there, and I got mad at her for wanting to go anyway," Magdalena says. "But after we saw the commitment she had by going to church every single day, my husband and I decided to start going to church too. After she convinced us, she convinced the rest of the relatives who live at home. Now we all go to church together, and we were all baptised."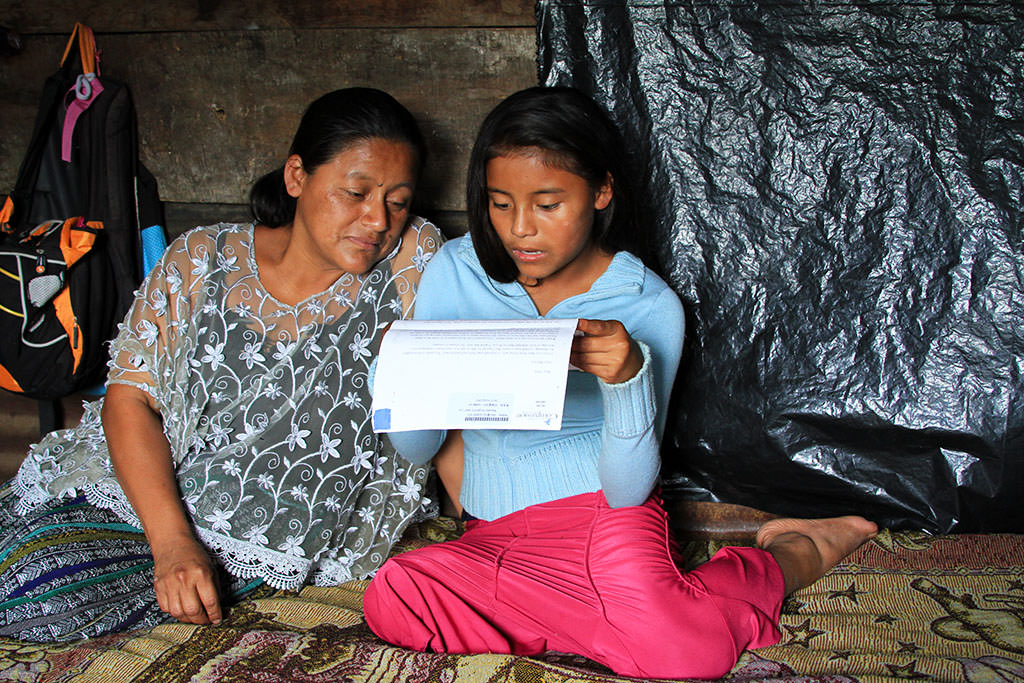 Mariela sharing her letters with her mum.
Magdalena believes that Mariela's life has improved as a result of being sponsored. "Mariela started having good changes in her life thanks to her sponsor and Compassion. She is happier now, and she is encouraged to stay in school and keep going to church," she said.
"My sponsor believes in me," Mariela said. "He says that I am very smart and I can do great things. His exact words were, 'I always pray that all your dreams may come true.' Those words made me want to become a teacher to help all the children in the streets who do not know how to read or write."
Easter Sunday is a chance to reflect on what Jesus has done for each of us personally, and the difference He has made in our lives. It's about being loved no matter how different you feel from everyone else and the hope that only comes from knowing Jesus. This Easter, share Compassion with those around you to find another sponsor for a child in poverty. Because each time a child is sponsored, it's not only about helping them with education and nutrition. It's about telling them they are loved, telling them they are valued and introducing them to the one who died to know them, Jesus.
Speak up for a child in poverty >
WORDS
Roz Walsh
PHOTOS
Isi Salazar
---
COMMENTS
1 Comment
---
---
Article Comments
You must be logged in to post a comment.