Warning - this post contains graphic descriptions
"It's Monday and nobody's coming to rescue us," a woman whispered weakly. Nearby, Katty listened in silence.
16 April 2016: On Saturday evening, a 7.8 magnitude earthquake struck Ecuador causing widespread destruction. 20-year-old Katty was working at her local book store in Manta when the building started to shake. In a roar of falling concrete and screams, the roof caved in, trapping everyone inside. The cries were silenced as suffocating darkness descended.
"At least I was conscious, but my legs were trapped. There was a concrete slab about 40 centimetres above my face and I couldn't move any part of my body," Katty said. Her friend Rebeca, was trapped in the same space as Katty and helped to free her legs. "We started touching things, trying to discover what was there and I found a mobile phone. When it lit up, I saw two dead persons next to me – a man and a woman."
Once the initial shock passed, the survivors started shouting for help, seeking human contact and reassurance. 30 people had survived the roof collapse but no one could get out. With iron and concrete all around and no signal on their phones, there was nothing to do but wait.
12 hours: On Sunday morning, the survivors were still trapped in the dark with only their phones for light. With stifling temperatures, relentless thirst began to take hold. Children started asking for food, water, ice cream, but there was nothing to give. With no mobile phone signal, it was impossible to communicate with anyone outside. Impossible to let them know they were trapped.
24 hours: Sunday evening and still no sign of a rescue. "People began to be desperate. They were screaming and not listening to others who kept telling them not to be hysterical because they were using up the little oxygen we had," Katty says. "It was completely dark. It was all dust, blood and the smell of death, and we could hardly breathe."
In the midst of all the chaos, Katty began to pray. "Dear God, don't let harm come to me. If you want me to get out of here alive, please take care of me now the way you've been taking care of me." When Katty was five years old, she was sponsored through the Compassion programme. As darkness surrounded her, she focused on her memories of her time there. To keep her courage, she started singing 'There is Power in the Blood', a song she had learnt at her project. "That really helped me to be strong and calm and not despair."
36 hours: Rebeca, her friend, had passed away in the night along with several others. Katty was still trapped in the same space with them and the light of their phones had faded along with hope. "The hours, the minutes seemed an eternity," Katty remembers.
48 hours: Katty clung to the promise she felt God had given her and encouraged herself, "I'm not going to scream and I'm not going to cry. I'm just going to pray and praise as I try to rest. I mustn't despair and I have to be calm." Exhausted, she fell asleep.
57 hours: "Open your eyes," a voice said.
At 5:20 am on Tuesday morning, the rescue effort had finally found them. Firefighters dug  a hole through the rubble to reach Katty and the others, who were the last survivors to be rescued alive; a miracle in the midst of tragedy.
660 people perished in Ecuador's earthquake and more than 16,000 people were injured. Buildings, schools and hospitals were flattened while thousands of families were left homeless. Following the disaster, Compassion has provided food, water and counselling through RESPOND to affected communities who have begun the long, painful process of rebuilding their lives.
More than four months later, Katty's life is completely changed. She now works for Compassion Ecuador including helping those affected.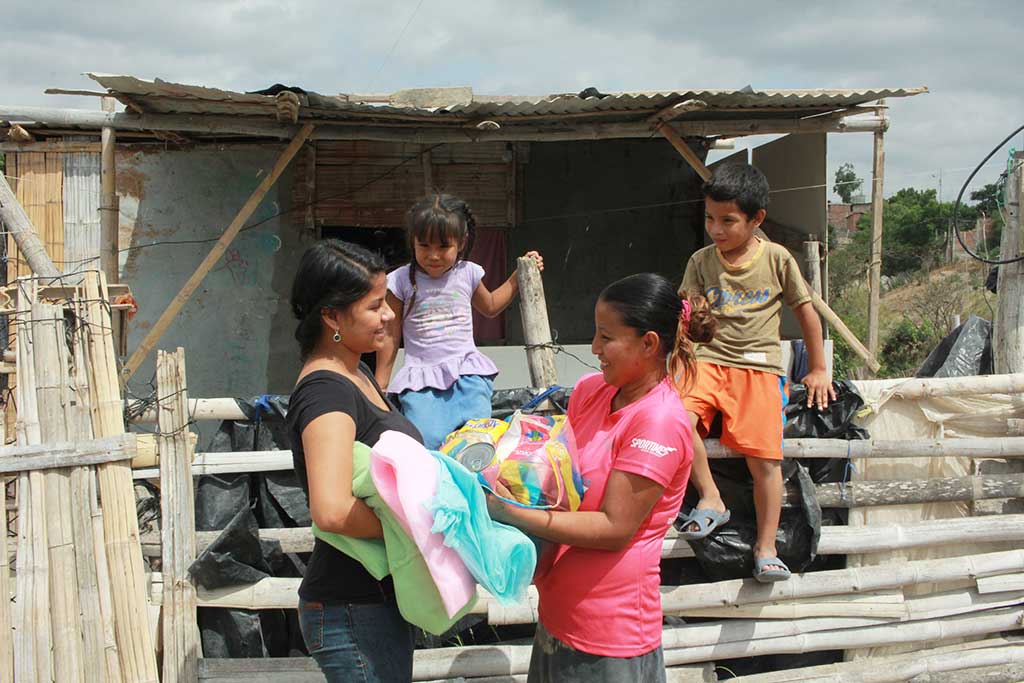 Katty distributing blankets and supplies to a family who lost their home in the quake.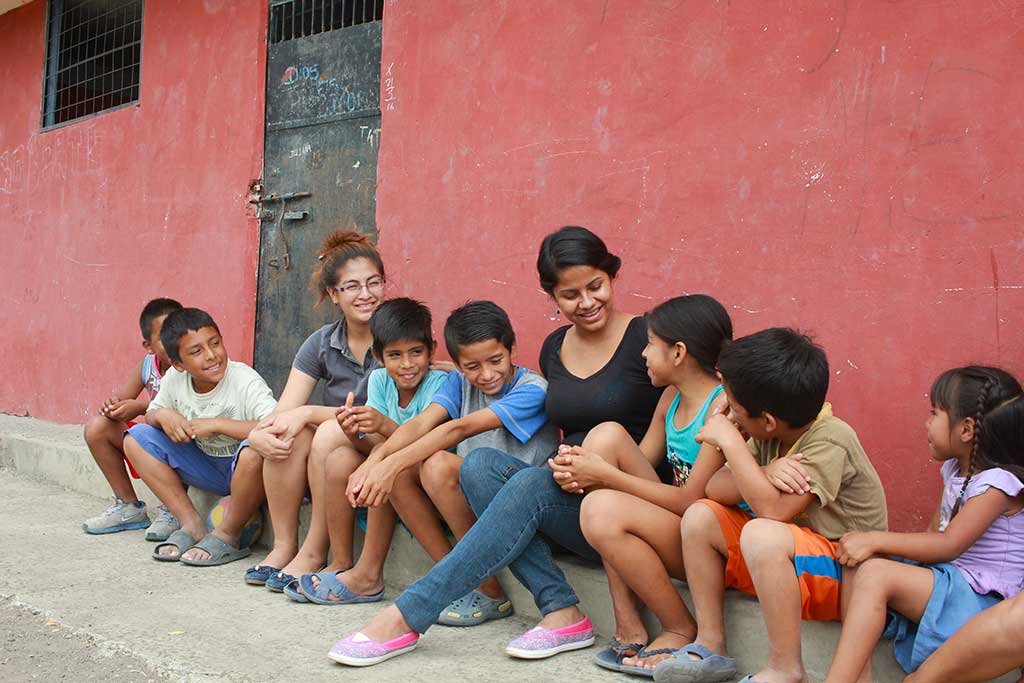 Katty has been inspired to help the next generation of children in her community.
"I feel safe and grateful," Katty says. "I experienced a tragedy, I suffered, but it was all a blessing. Now I have a job and new opportunities. For me, it turned out to be more of a blessing than a tragedy. Now I'm sure that I'm in His hands."
Join us in continuing to pray for those impacted by the Ecuador earthquake and aftershocks. Pray for children and young people like Katty who continue to live with harrowing and traumatic experiences. 
Please also keep those affected by the Italian earthquake on 24 August in your prayers,  lifting up those in Amatrice, Accumoli and Pescara del Tronto who have lost loved ones and livelihoods. 
WORDS
Roz Walsh
PHOTOS
Compassion International
---
COMMENTS
1 Comment
---
---
Article Comments
You must be logged in to post a comment.