When he was 3 years old, a battle with polio left Denard paralysed from the knees down.
Unable to cope, Denard's parents abandoned him, leaving him and his two siblings in the care of their aunt, Estrella. With six children of her own, Estrella provided food for the family by going door to door washing clothes. Despite her hard work and long hours she struggled to meet their basic needs.
Seeing the family's situation, the local church reached out and invited Denard to join the Compassion project.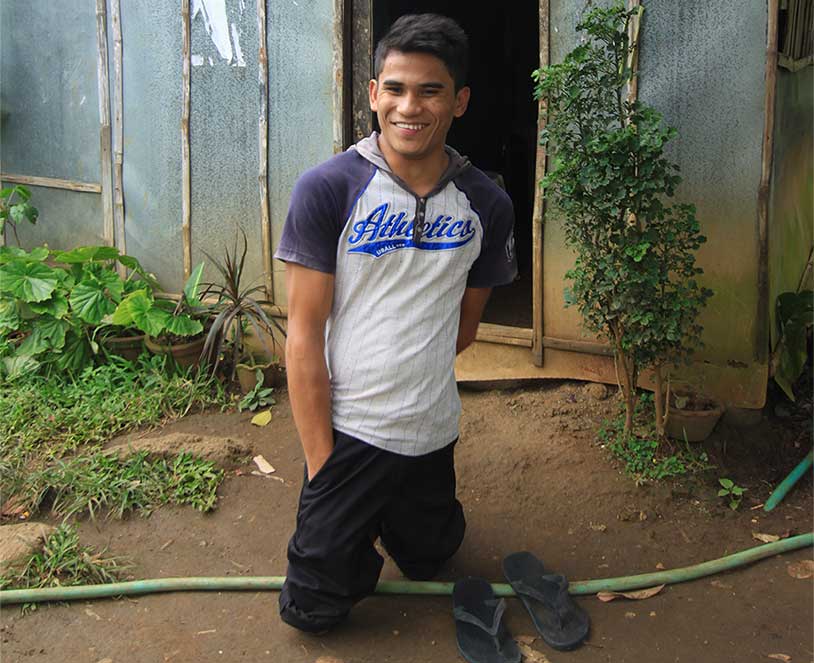 When he was first registered the staff were unsure how best to support him. "We weren't ready for Denard then and didn't know how to handle children with disabilities," confesses project director, Herlyn. "But we didn't hesitate to take the opportunity to take care of Denard."
Denard moves around by walking on his knees. "I've been walking on my knees for so long that they are now thick with callouses," he explains. "It still hurts so much on some days. I have shooting pains to my knees."*
At the start Denard was withdrawn and didn't interact with the other children. "He became more aware of his physical disability and began distancing himself. He would look at other children playing and would stay in a corner by himself," says Herlyn.
Herlyn and the staff worked hard to include Denard, picking activities such as storytelling and memorising Bible verses that didn't require standing. Slowly he grew in confidence, made new friends at the project and learnt to forget his disability. His friends ensured he was always part of their adventures, carrying him across the small stream and up the hills around their village.
Outside the project was a different story.
"People laughed and made fun of me, even my school teacher," remembers Denard. This caused him to try to quit school several times. He was ridiculed and physically hurt. Yet he kept going thanks to the encouragement of his aunt and his sponsor's letters.
Denard finished school, but his results were low. "I gave up on life," Denard confesses. "I asked God, 'Why me?' I have no legs and I don't even have parents."
But, Compassion wasn't ready to give up on him. Determined to see him finish well, the staff helped him enroll on an IT course at college. "People were surprised when I entered the classroom for the very first time. But this time I was determined to finish my studies for the people who cared for me and for myself," says Denard.
At the age of 21, Denard graduated from his Compassion project. A year later, he completed his course and was offered a job in the government as encoder. Today he is the one supporting his aunt Estrella and the family.
Looking back, Denard is thankful for the support he received: "The Compassion programme is not just part of my life, but all of my life. It means everything to me."
*Denard's Compassion project has given him a pair of crutches and a wheelchair but he prefers not to use them.
WORDS
Emily Laramy
PHOTOS
Edwin Estioko
---
COMMENTS
No Comments
---
---
You must be logged in to post a comment.